By Seattle Socialist Alternative
Amazon's money bomb backfires! Amazon spending $1 million trying to buy Seattle City Council has provoked anger. Bernie Sanders and Elizabeth Warren take to social media to warn against the danger of letting Amazon buy Seattle's City Council elections and support our campaign along with others running against Amazon-backed candidates.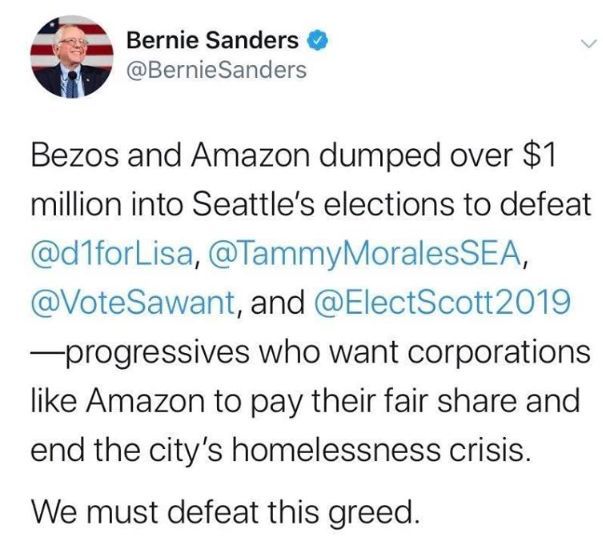 Thank you to Bernie Sanders for standing with us against the wrath of the world's richest man, Jeff Bezos! As Bernie Sanders has said, this isn't about me, it's about us. Progressives, socialists and all working people need to unite to stop Amazon from buying Seattle's elections.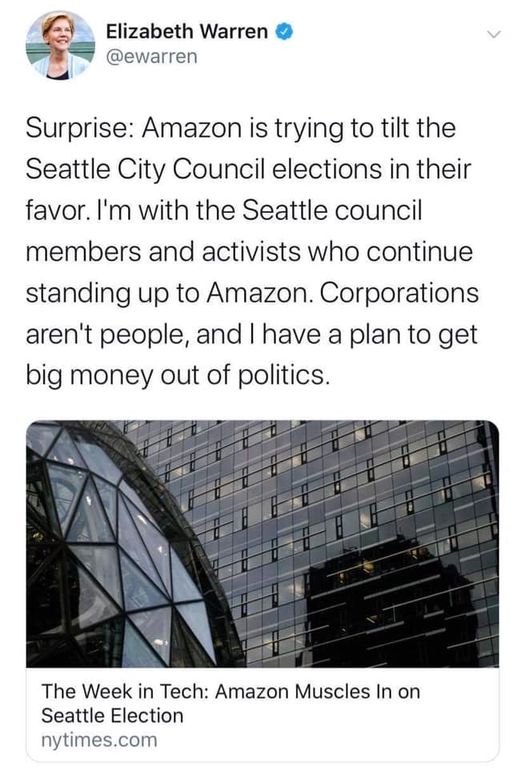 This is the most important local election in the country right now, offering a preview of how far big business is willing to go to defend their domination over politics. We can't let Amazon carry out a hostile corporate takeover of Seattle City Hall. Thank you to Elizabeth Warren for standing with Seattle's working people against Amazon's million dollar money bomb!
In the wake of intense criticism against Amazon's role in the election, Seattle City Councilmembers Theresa Mosqueda and Lorena Gonzalez joined a growing list of elected Democrats and local and state leaders endorsing our campaign. Read about it on our campaign website: https://www.kshamasawant.org/bigendorsements
Even Amazon's own workers are protesting it's attempts to buy this election! Kshama Sawant was proud to stand with Amazon workers at today's rally against the Amazon corporation's recent $1 million money bomb. As Matt Smith, an Amazon contract cargo handler and one of the event's organizers, put it: "You will not buy our City Council, and you will not sabotage our efforts to make Seattle a city that works for working people!"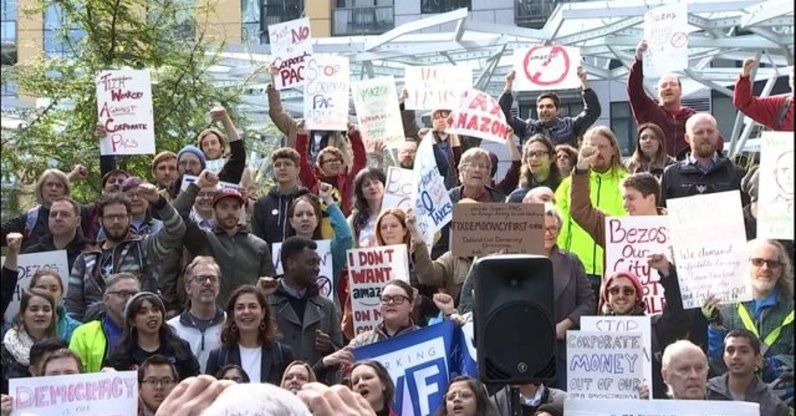 Thank you to Councilmembers Teresa Mosqueda and Lorena Gonzalez for standing with Councilmember Kshama Sawant, Tammy Morales (Candidate in Seattle's District 2) and Shaun Scott (Candidate in Seattle's District 4,) today against Jeff Bezos's attempt to buy this election — we need maximum unity amongst progressives, socialists, and all working people in this crucial election. As protesters chanted today, "Seattle is not for sale!"
Read Kshama Sawant's op-ed in Teen Vogue!
Egan Orion is running misleading ads implying his campaign has received more support from District 3 than ours, but in reality our campaign has hundreds more individual donors in District 3 than his! While Amazon and corporate PACs are spending record-breaking sums to try and buy this election, we're breaking records with our working-class campaign! With over 6,000 people donating, Sawant has more individual donors than any city election campaign in Seattle's history. Our working-class driven campaign has hundreds more donations from District 3 residents than our corporate-funded opponent and a median donation of just $20.
Working people in Seattle refuse to let Amazon buy our elections!